Cozy Set | Gives Warmth and Style! The Must-Have of this Autumn
Say goodbye to your cold weather fashion worries and hello to our Cozy Set! This set consists of a dress with a matching sweater. The Cozy Set absolutely satisfies your need for warmth and fashion in one delightful package.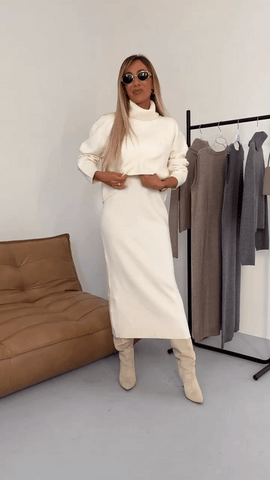 ✓ Knitted Comfort: Embrace the chill of fall and winter with this chic knit ensemble, complete with a mid-length dress and a high-neck top suitable for numerous occasions.
✓ Ultimate Coziness: Crafted from plush material, this combination prioritizes both warmth and comfort during the cooler days.
✓ Chilly Season Essential: Thanks to its intricate knit pattern, this ensemble ensures you stay both toasty and stylish during the colder months.

Size Guide